You guys remember that big announcement re:
DOUBLE K's
future I mentioned a little while back? WELL STRAP IN, after working many many hours on it, IT'S HERE
DOUBLE K's easily been the most fun comic I've ever worked on, both in terms of my being proud of the content and in terms of bein' able to make a seriously awesome bunch of folks happy. BUT, I've never been able to give it the time and attention I
really
wanted to, given the demands of my day job and its erratic, hectic schedule.
You know what, though? SCREW THAT.
I'm gonna go ahead and assume that you folks want what
I
want, which is to see DOUBLE K barrel non-stop toward its staggeringly explosive conclusion (and believe you me, it is already written and it is an
outrageous
, not-to-be-missed ending). And I've tried to get that momentum going before, but work always had to come first eventually. Not so anymore. I'm taking a calculated (some might accurately say "insane" or "ludicrous" or perhaps "suicidal") risk here and turning down freelance work for a while to do this, because DAMMIT I believe in you wonderful folks to help this comic get DONE
RIGHT
.
SO WITH THAT SAID, HERE'S HOW TO HELP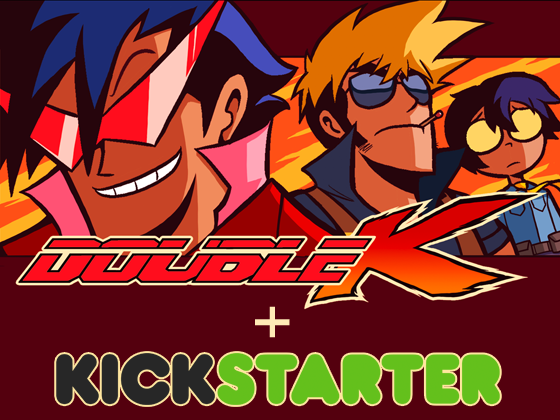 I've set up a
Kickstarter project
to get THREE THINGS done, namely MORE UPDATES, a way for you guys to read the comic
IN PRINT,
and to set up a shop of FULL-ON LEGAL DOUBLE K-inspired goods (such as those
shot glasses from way back
) to support the comic until it is FINISHED.
There's a ton more info
there
(including important copyright info related to the book side of things)
along with a totally ridiculous video that you will definitely want to watch.
FOLKS I WANT THIS TO WORK OUT
SO BAD
, it is killing me. There is so much on the horizon for this comic that is going to be SO GODDAMNED GOOD and I want to get there!! I KNOW you do too! Please check the Kickstarter page out, if you can, chip in (GOD BLESS YOU FOREVER), and if you can't, please help get the word out to folks who might be interested in this kind of thing.
THANK YOU SO MUCH
your captain SALUTES YOU BIG-TIME
p.s. DOUBLE K returns this Friday, January 13!!!
p.p.s. i'll be fielding questions as best I possibly can both here and over at Kickstarter, so ask away.